9 Major Google Workspace Updates in 2022 that You Must Know About
Google Workspace (earlier known as G Suite) is a world-class suite of web applications aimed at enabling the corporate workforce to work efficiently and collaborate seamlessly in a hybrid work culture. Integration of a wide range of tools such as Gmail, Docs, Meet, Cloud Search, Chat, Calendar, and others, makes Google Workspace an ideal choice for all users in 2023. 
As a futuristic solution that is constantly oriented towards the improvement of productivity for the teams, Google Workspace saw a number of important updates that will make using it even more convenient and efficient. Let's take a look at some of the major additions:
The 9 major changes made to Google Workspace in 2022
Integrated view for Gmail
Unlike the past when multiple tabs or windows were needed for different functions, the new Gmail has an integrated view that allows seamless switching between Gmail, Chat, and Meet in one single window.
Ease of formatting and displaying code in Google Docs
In the past, Google Docs users who wanted to display code had to paste it into the document, and then manually highlight the syntax to make their point. With the latest update, a new smart canvas feature has been added that can simplify formatting and displaying code in Docs through code blocks.
To format and display code in a Doc, select Insert > Building blocks > Code blocks > choose your programming language or search @ > Code blocks > choose your programming language. 
Improved experience to remove participants from Google Meet Calls
A recent Google Meet update will now have a feature that lets users remove participants from a meeting. A prompt on this will enable them to either remove the user from the call, fill out an additional abuse report, or even block them from rejoining. However, the block functionality is only to be used when it is absolutely needed. The update aims to help users manage their meetings and avoid any disruption. 
Expansion of language support for captions and translated captions in Google Meet
Early in 2022, translated captions were made available in Google Meet. This enabled real-time translation of the speaker's language and made meetings more inclusive and collaborative for the participants.
Now, you can translate English calls into Japanese, Mandarin (simplified), and Swedish. Alternatively, French, German, Portuguese, and Spanish calls can be translated into English.
Standard captions are also available in Japanese, Russian, Italian, Korean, Dutch, Portuguese, Mandarin (traditional), etc. 
Google Meet Access
Users can now join a Google Meet call even from Google Docs, Sheets, and Slides. There is an additional 'present to meet option' through which one can join the call, and quickly join as well as present a document, spreadsheet, or presentation to all attendees. 
It allows easy collaboration between meeting participants alongside the conversation. This is truly a boon for hybrid teams.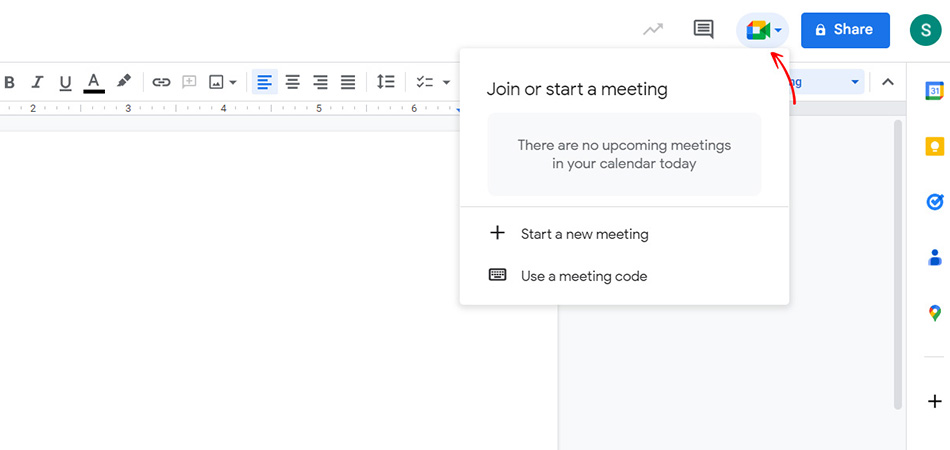 Expansion of expiring access controls in Google Drive
Now, users can set expiring access right at the time of sharing files in My Drive. This makes flow easier than the earlier practice of setting expiring access only after the person had accessed the file. Further, expiring access is now also applicable for editors, and not just for the viewers and commenters. 
Managing overdue tasks in Google Calendar
Even if you have tasks that were due in the last 30 days, but were not completed, you will now have an all-day entry to inform you about how many past overdue tasks are still pending. Click on that entry and you will be able to see the list of pending tasks. You can edit the list directly or mark the tasks as completed from within this list. 
Rich Text Formatting in Google form titles and descriptions
The latest updates enable rich text formatting in Google forms. Thus, you can customize and make your forms more emphatic and visually appealing. Highly requested features such as bolding, underlining, italicizing, hyperlinks, and lists in titles, question titles, and descriptions alongside new options for styling fonts, are going to make forms so much better in 2023. 
Warning banners in Google Drive for suspicious files
With the rise in cybercrimes and phishing attacks, safeguarding your Google Drive has become a necessity. To add further protections, there is now going to be a warning banner that will be displayed when a user opens a potentially suspicious or harmful file in Google Drive. This would provide greater protection for users and their organizations from malware, phishing, and ransomware attacks. Such warnings are already activated when opening Google Docs, Sheets, Slides, and Drawings. 
Which Google Workspace plan to choose 
Depending upon your industry and the size of operations, Google Workspace has different plans. Each plan offers affordable and diverse subscription options with a variety of features. Let's take a look at various Google Workspace plans below!
BUSINESS STARTER

₹2,520/User/Year + Tax

BUSINESS STANDARD

₹ 10,080/User/Year + Tax

BUSINESS PLUS

₹ 15,120/User/Year + Tax

ENTERPRISE

Price on Request

Customised and secure business email based on Gmail platform

Customised and secure business email based on Gmail platform

Customised and secure business email + eDiscovery, retention

Customised and secure business email + eDiscovery, retention, S/MIME Encryption

Video meetings involving up to 100 participants

Video meetings of up to 150 participants + recording

500 participant video meetings + recording, attendance tracking

500 participant video meetings + recording, attendance tracking, noise cancellation, in-domain live streaming

30 GB cloud storage per user

2 TB cloud storage per user

5 TB cloud storage per user

As per need

Security and management controls

Security and management controls

Enhanced security and management controls including Vault and advanced endpoint management

Advanced security management and compliance controls, including Vault, DLP, data regions and enterprise endpoint management

Standard Support

Standard Support (option for paid upgrade to Enhanced Support)

Standard Support (option for paid upgrade to Enhanced Support)

Enhanced support (option for paid premium support)
Conclusion
In 2023, business growth is going to greatly depend on efficiency, and that's where you must choose the right Google Workspace plan through the expert support and handholding of a reputed and authorized Google partner like Shivaami. The company is a leading international provider, and authorised Google Workspace Reseller in India.
With offices in major metros such as Mumbai, Bangalore, Chennai, and Delhi and a global presence in California and New Jersey in the US, Shivaami is an ideal and always accessible partner for you. Go ahead and enjoy the power of the Google Workspace edition for your business!